THE BEATLES
The Beatles were an English rock band formed in Liverpool in 1960. With a line-up comprising John Lennon, Paul McCartney, George Harrison and Ringo Starr, they are regarded as the most influential band of all time. The group were integral to the development of 1960s counterculture and popular music's recognition as an art form. As pioneers in recording, songwriting and artistic presentation, the group revolutionised many aspects of the music industry and were often publicised as leaders of the era's youth and sociocultural movements.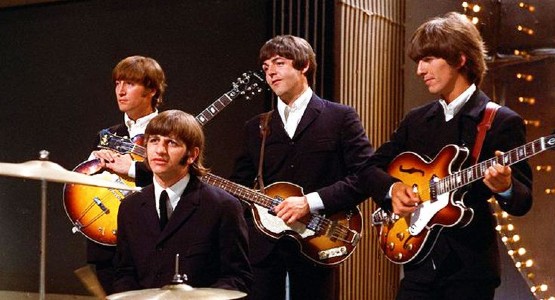 THE BEATLES PERFORMING
Manager Brian Epstein moulded them into a professional act and producer George Martin guided and developed their recordings, greatly expanding their domestic success after their first hit, "Love Me Do", in late 1962. As their popularity grew into the intense fan frenzy dubbed "Beatlemania", the band acquired the nickname "the Fab Four".

SILHOUETTE OF ICONIC ABBEY ROAD CROSSING
Abbey Road is the eleventh studio album by the English rock band the Beatles, released on 26 September 1969 by Apple Records. Named after the location of EMI Studios in London, the cover features the group walking across the street's zebra crossing, an image that became one of the most famous and imitated in popular music.